What's Going On at MK Dons?
15.08.2022 23:48:29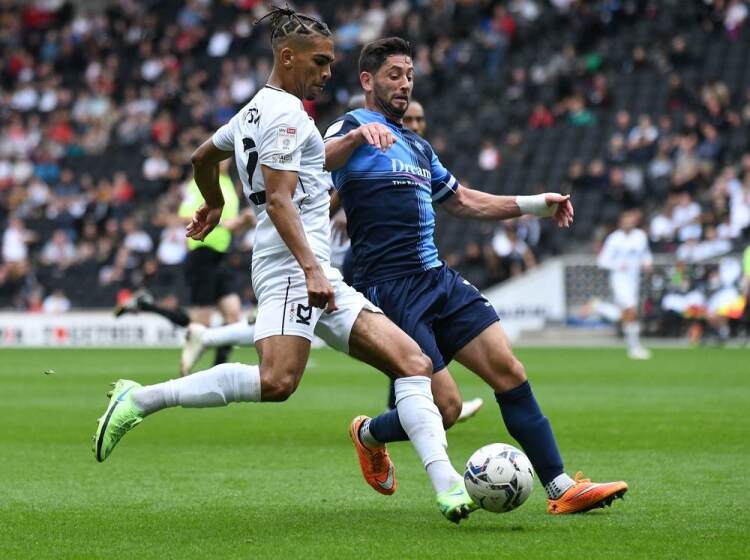 Viewed as potential play-off hopefuls before a ball was kicked, Saturday's defeat at the hands of Ipswich Town leaves MK Dons without a point to start the 2022/23 season.
Why do they look like a pale imitation of a team that finished in third last year?
They narrowly missed out on an automatic promotion place on the final day of the campaign, before losing to Wycombe Wanderers in the play-offs.
Is it just an early blip, or do the Dons have cause to be concerned over the course of the season?
A dire start to the 2022/23 season
MK Dons have played three and lost three. They've shipped five goals, and scored none in response.
It's been a dire start to the season, even if the 3-0 loss to league leaders Ipswich Town probably makes things look slightly worse than they actually are.
In fact, two of the three losses have come at the hands of automatic promotion chasers, in the form of Sheffield Wednesday and Ipswich. Even Cambridge United are no slouches.
Dons head coach Liam Manning was quick to look to the future, having celebrated a year at the club on August 13th. (The 3-0 defeat was their joint-biggest away loss since he took charge in 2021.)
"It's tough to take for the fans, I know," Manning said. "We got into a habit of winning at the end of last season which we got used to and liked but we've changed so much and we're not where we were at the end of last season.
"We're in the early stages of a long journey. We have to be realistic - we're in a transition, a rebuild, we've got new players and some key ones missing through injury".
Why are MK Dons struggling to score goals?
A tactical change, the recent hot weather, why are MK Dons visibly struggling? Much has been made of the switch from a back three system to a back four, but it's not the only reason.
Personnel is a major factor. The team is almost unrecognisable, especially with a number of key names out injured.
The likes of Will Grigg, Mo Eisa, Daniel Harvie, Tennai Watson, Josh McEachran and Nathan Holland are all currently out of action.
Then there's Scott Twine, Harry Darling, David Kasumu, Peter Kioso and Troy Parrott, who are some of the key names who have left the club in recent windows.
Twine alone bagged 20 league goals in 45 appearances before earning a move to Burnley. Darling notched 10 goals in all competitions from centre-back as both made the PFA Team of the Year.
They're currently relying on former Arsenal youth Matt Dennis to lead the line, and he does look like a talent, but he's probably still too raw for the level of responsibility placed on his shoulders.
Dennis scored eight goals in 29 games on loan at Southend United in the National League last season, but he's still unproven at this level.
It goes to show how stretched the squad is, while Grigg is expected to miss their next game against Port Vale on Tuesday due to injury.
It's not a surprise that the Dons are struggling for goals, which is the main explanation for their low standing in League One.
However, it's also a problem with a clear solution in the future, with the likes of Grigg getting closer to making a comeback.
Will the Dons make the play-offs?
The team seems a world away from the form which saw them miss out on the title by just three points last season.
It's going to take time for this Dons squad to gel, especially while they wait for half of the team to return to action.
They're also missing some of their best players, following a postseason clear out that saw Darling and Twine move on to greener pastures. Dons will miss their ball playing centre half, as well as their talismanic striker.
Then there's the fact they only just missed out on promotion last season, which is likely to cause a mental block if they get stuck in the slog of a relegation dogfight in the run up to Christmas.
Could The Dons go down this season?
Could the Dons go down? It's still early days, so there's no major cause for concern given the circumstances.
After the worst start to an MK Dons season in history, two home games against Port Vale and Accrington Stanley are up next.
Anything less than a point at Vale on Tuesday would be unforgivable. Each game is winnable, and it could be the perfect springboard to kickstart The Dons' flagging season. It's also an opportunity to put the ghosts of the last campaign to rest.
Manning noted that they should have a few extra bodies back in time for Tuesday, with more joining the squad over the next few weeks.
It's been a tough start; but we'd reserve judgement until the coach has more players at his disposal.
In any case, they need to start scoring goals soon. They're the only team in the league that has failed to find the net, and they still look a little light up front compared to last season.
Click here for our Discounted Account Offer. Access previews and analysis on up to 5 tournaments for 30 days.
Featured
Nottingham Forest have made a number of new sig...