5 Premier League players destined for LaLiga?
13.03.2017 20:58:19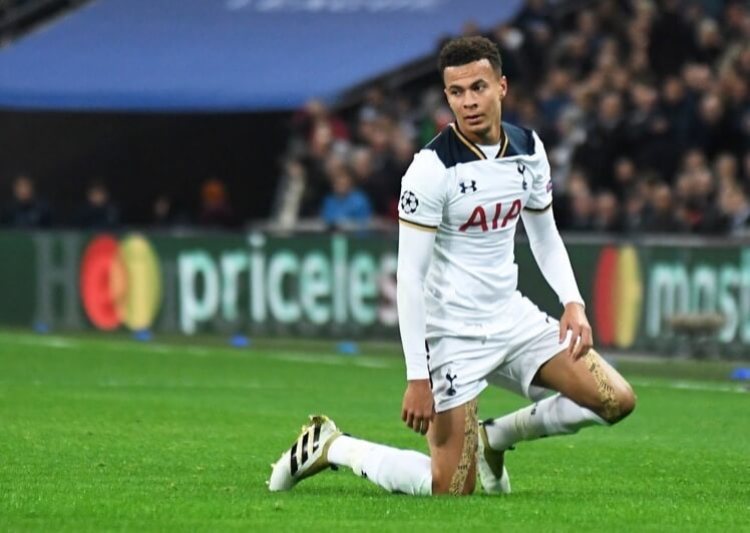 Very few players make the move from the English Premier League to Barcelona or to Real Madrid, with the likes of Gareth Bale and Luis Suárez the notable exceptions. In fact, no other players have swapped England for the Camp Nou or for the Santiago Bernabéu since the Uruguayan striker did so in the summer of 2014.
However, there are a number of players currently in the Premier League who appear destined to end up at one of these Spanish football giants. Here we take a look at five such players and explain why Barcelona or Real Madrid would be interested and when such a move might take place.
1. Dele Alli (Tottenham to Real Madrid)
Dele Alli's name has increasingly been linked with a move to LaLiga, particularly with Real Madrid. The 2015/16 PFA Young Player of the Year certainly has the talent to follow in the footsteps of fellow England international midfielders David Beckham and Steve McManaman by joining the giants of Spain's capital city, especially considering he's already scored 50 goals before his 21st birthday in April 2017.
The only potential obstacle to such a move is the youngster's mentality and discipline. Alli has developed a reputation for the occasional reckless challenge and that recently caused Real Madrid legend Míchel Salgado to raise his concerns. "My question is: can he cope with pressure of playing for Madrid?" the retired player wondered. Yet if Alli can improve his discipline then there's no reason why a move couldn't happen in the medium term.
2. Héctor Bellerín (Arsenal to Barcelona)
Staying in North London, there is another player who has an excellent chance of joining one of Spain's big two teams. Specifically, Héctor Bellerín has a chance of making a move to Barcelona, the team whose youth academy he came through before moving to Arsenal as a 16-year-old in 2011.
The Catalan club have struggled to replace Dani Alves on the right side of their back line and are determined to sign a right-back in the summer of 2017. Bellerín would suit their style perfectly as the speedster has the pace necessary to bomb up and down their right flank. He has even set a time of 4.42 seconds over a distance of 40 metres, which is quicker than the 4.64 seconds Usain Bolt took to cover the first 40 metres of his current 100m world record run.
With the player open to a move back to Catalonia if Arsene Wenger were to leave Arsenal, a transfer could happen this summer.
3. César Azpilicueta (Chelsea to Barcelona)
Another Premier League player who Barcelona could turn to as they aim to solve their full-back woes could be Chelsea's César Azpilicueta, who Barcelona's sporting director Robert Fernández scouted in person at the beginning of March.
One of the most exciting things about the Spaniard is the fact that he can play just as well at left-back as he can in his preferred right-back role. In fact, since moving to London in 2012, he has played more matches for the Blues at left-back (49.5%) than he has at right-back (37.7%), while he has also been able to fill in as a centre-back or in midfield. That versatility is the kind of quality which Barcelona need right now, while his passing ability also suits the Catalan team's philosophy. 27 matches into the 2016/17 Premier League season, no other defender has played more successful passes than Azpilicueta's 1,505.
4. Philippe Coutinho (Liverpool to Barcelona)
"Coutinho has been one of the stand-out players in Europe this season and I know there is a lot of admiration of him at Barcelona," said the Catalan club's ambassador Ronaldinho earlier in the 2016/17 season, setting alarm bells ringing at Liverpool.
Having put together an excellent start to his campaign, the Brazilian midfielder has worked his way onto Barcelona's radar and is another Premier League star who could make a move to LaLiga in the next few seasons. By the end of February, no other player in the league had scored more goals from outside the area than Coutinho's three, while his 2.38 'key passes' per 90 minutes is a better rate than that of the Blaugrana's current attacking midfield options of Arda Turan, Ivan Rakitic, and Denis Suárez.
5. David de Gea (Manchester United to Real Madrid)
It is no secret that Real Madrid have long been interested in signing David de Gea from Manchester United. They were even one fax away from doing so in the summer of 2015, but they missed the transfer window's deadline by minutes and the 'keeper remained at Old Trafford, while Real Madrid's Champions League triumph kept their existing No.1 Keylor Navas in the good books for the time being.
Now, however, there is growing frustration with the Costa Rican's performances between the sticks, as he has kept just four clean sheets in his first 19 La Liga matches of the season, a ratio which is bettered by backup Kiko Casilla's three clean sheets in seven matches.
Recent goalkeeping errors against Napoli and Real Betis have not helped Navas' cause either, and De Gea could become a serious summer 2017 target for Real Madrid. He has made 70+ saves in each of the past four seasons, earning three consecutive Manchester United Player of the Year awards. He would suit Real Madrid perfectly and, as his hometown, the city of Madrid would suit the player too.
264
match previews updated