World Cup - Group G Analysis
11.06.2018 09:22:02
We take a detailed look at the teams who make up World Cup Group G.
BELGIUM
Strengths: There is quality all over the pitch and they have lost just once since coach Martinez took charge.
Weaknesses: Have not faced many truly competitive teams in recent times and the defence is not at its best.
Belgium managed to finish among the top 4 in the World Cup only once, back in 1986. This is the case despite them having taken part 12 times. They travel to Russia with high ambitions. This is the most talented group of players the Red Devils have ever been able to assemble.
Belgium had a very easy time in qualifying as they dominated Group H. 9 wins and 1 draw, at home to second-placed Greece saw them finish with a comfortable 9 point lead. 43 goals for and 6 against demonstrated their superiority over the rest of the group, but we can hardly say that Cyprus, Bosnia, Estonia and Gibraltar provided a true test.
Roberto Martinez has been at the helm since August 2016 and so far his reign has been an impressive one. Under the Spaniard, Belgium have played 19 games, winning 13, drawing 5 and sustaining just 1 defeat. Curiously enough, they lost on his debut in September 2016 in a friendly against Spain. Since then, Belgium have been undefeated, but as mentioned, opposition has not been of the highest level.
Martinez usually opts for a 3-4-2-1 formation. The back three looks like the weakest area with Thomas Vermaelen and Vincent Kompany sustaining injuries during the build to the World Cup. Neither are deemed to be fully fit at the time of writing.
The midfield and attack are by contrast filled with an abundance of talent. Some argue that the coach's decision to leave Radja Nainggolan at home could represent a serious mistake. This is particularly the case since the likes of Alex Witsel and Youri Tielemans play in the Chinese Super League and as reserve for Monaco respectively.
In preparation for Russia, they played a poor match against Portugal, which ended up in a scoreless draw, and had an easy 3-0 win over Egypt.
Target: Belgium should aspire to a top 4 finish, but the quarterfinals could be a more realistic target for them.
PANAMA
Strengths: Experience and a great team spirit due to age and time spent playing together.
Weaknesses: Panama make their World Cup debut and can expect to find themselves outgunned in pretty much all positions on the pitch.
Panama debut in the World Cup, having first taken part to the qualifying rounds in 1976. There are question marks as to whether their qualification to Russia 2018 is down to their own strengths, or the shortcomings of their regional rivals.
Panama achieved qualification through two Group stages, neither of which they dominated. They qualified ahead of perennial World Cup attendees The USA despite a humbling away defeat to them by 4 goals to 0.
Coach Hernan Gomez took the reins of the team in February 2014 from Julio Cesar Dely Valdes, who had led them to semifinals and final of the CONCACAF Gold Cup 2011 and 2013 respectively.
The Colombian has been manager of the team for 70 games now. In this period, Panama have notched 25 wins, 19 draws and lost 25 times. They have scored 79 goals and conceded 84.
Since securing their ticket to Russia in October 2017, Panama have played several friendlies. Apart from beating two minnows in Trinidad & Tobago and Grenada, they picked up commendable draws against Wales and Northern Ireland. Of more concern they have been defeated by Iran (2-1), Denmark (1-0), Norway (1-0) and, most heavily, Switzerland (6-0).
Coach Gomez can rely on the oldest squad at the World Cup with an average age well over 29 and with that an abundance of experience.
9 out of 23 players already have more than 80 caps. Jose Penedo, the goalie, Blas Perez and Luis Tejada, the two strikers, are their most emblematic players and are all above 36-year-old. While just a couple of players play in the lower European leagues, the rest play in the MLS, or various Latin-American championships.
Panama adopt a very physical style of play, a trait which could see them pick up several cards over the course of the tournament.
Target: Anything but last place in the group would be a positive result for Panama with damage limitation being the key, particularly against England and Belgium.
TUNISIA
Strengths: Their tactical flexibility, which allows them to adapt to any opponents.
Weaknesses: Have little, if any international experience.
Tunisia will be participating in their fifth World Cup, hoping to do better than on previous occasions. Their overall record of 7 defeats, 4 draws and just 1 win, doesn't bode well for their aspirations this time round.
Tunisia qualified for Russia after topping CAF Group A. 4 wins and 2 draws against Congo DR, Libya and Guinea saw them score 15 goals and concede 6.
Coach Nabil Maaloul has been in charge of the team since April 2017, indeed this is his second stint at the helm of Tunisia. In 2013, he led the Carthage Eagles for 5 fixtures and they obtained 3 wins and 2 draws.
This time round he is still undefeated as they have played 9 games, winning 5 and drawing 4. During preparations for the World Cup they managed to beat the likes of Costa Rica (1-0) and Iran (1-0), whilst drawing against Portugal (2-2) and Turkey (2-2).
Tunisia usually adopt an aggressive 4-2-3-1 or 4-3-3 formation, especially when goals are needed. However, as demonstrated on the trip to Congo DR in the qualifiers, they also know how to defend. On that occasion they went with a hyper-tight 5-3-2 system. Such tactical versatility is undoubtedly one of their main strengths.
Tunisia have a young squad with an average age of just 26.5 years. The players ply their trade in their domestic league, or in France with a few exceptions. Centre-back Syam Ben Youssef has played both in Turkey and England and the talented Wahbi Khazri, was on loan at Stade Rennais from Sunderland.
The aim will be survival against England and Belgium. A point in one of those games could still see them go through with everything resting on their final group game against Panama.
Target: Aim to stifle Belgium and England. Third place in the Group would seem to be a logical end to their adventure.
ENGLAND
Strengths: Youth and plenty of talent especially in attack.
Weaknesses: Defence and the midfield do not seem to be particularly strong and they lack experience between the sticks.
Since their memorable triumph at home, in 1966, England have been far from successful in the World Cup. In fact, with the exception of a fourth placed finish at Italia'90, they have been most noted for an array of remarkable disappointments.
There is hope for an improvement this time round, albeit with a realization that there are far better teams than them at the World Cup.
England's qualification was difficult to fault as they dominated Group F with 8 wins and 2 draws. They scored 18 goals and conceded just 3.
Gareth Southgate has been in charge since November 2016 following the inglorious end to Sam Allardyce's short-lived reign. The former manager of the U21 side, he is a man who loves working with young players and so it comes as no surprise that England, with an average age of 26, are among the youngest teams present in Russia.
With Southgate at the helm, England have played 18 games overall, winning 10, drawing 6 and losing just 2, to France and Germany. They did not concede any goals in 11 of those fixtures.
In the aftermath of qualification England have played 6 fixtures, accumulating draws to Germany (0-0), Brazil (0-0) and Italy (1-1) and beating The Netherlands (1-0), Nigeria (2-1) and Costa Rica (2-0).
The English team is made up entirely of home based players. Some see this as a positive, others have argued that in the past this has lead to club based cliques within the squad. Unity within the national team is something that Southgate has spent a significant amount of time working on.
In goal England lack experience as Jordan Pickford, Nick Pope and Jack Butland have only 12 caps between them. Most agree that dispensing with Joe Hart was a decision Southgate had to make.
In defence and midfield England have obvious vulnerabilities. The young age and inexperience of some players could work against them. On the other hand, there is plenty to be excited about in attack with Harry Kane, one of the most prolific forwards around, not to mention Marcus Rashford and Jamie Vardy. Added to this England can rely on two wingers in Raheem Sterling and Jesse Lingard, both of whom come off the back of very encouraging seasons for Manchester City and Manchester United respectively.
Target: A place in the last 16 seems achievable. Anything beyond that is a bonus.
Click here to subscribe to our preview, report & stats service. Coverage of 50+ tournaments with daily updates before and after games!

Featured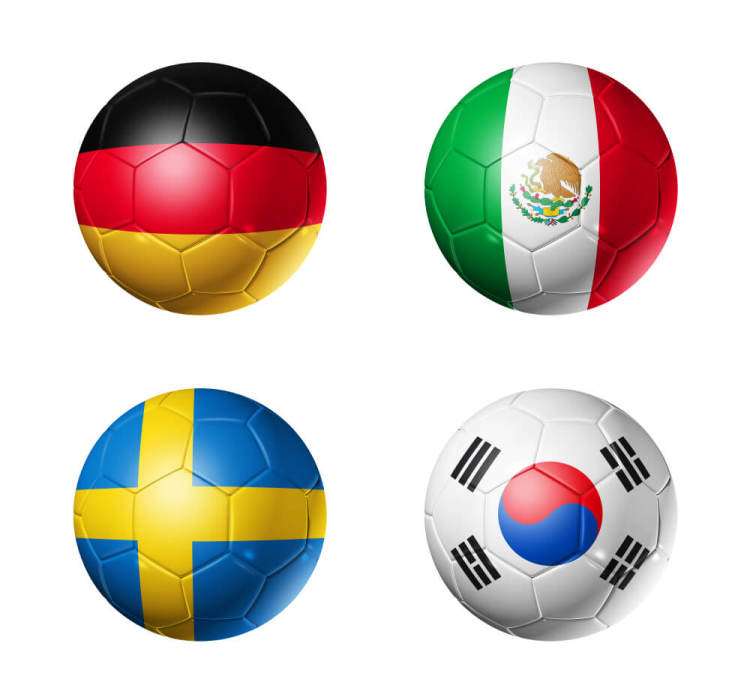 We take a detailed look at the teams who make up W...
278
match previews updated