World Cup - Group H Analysis
13.06.2018 07:43:49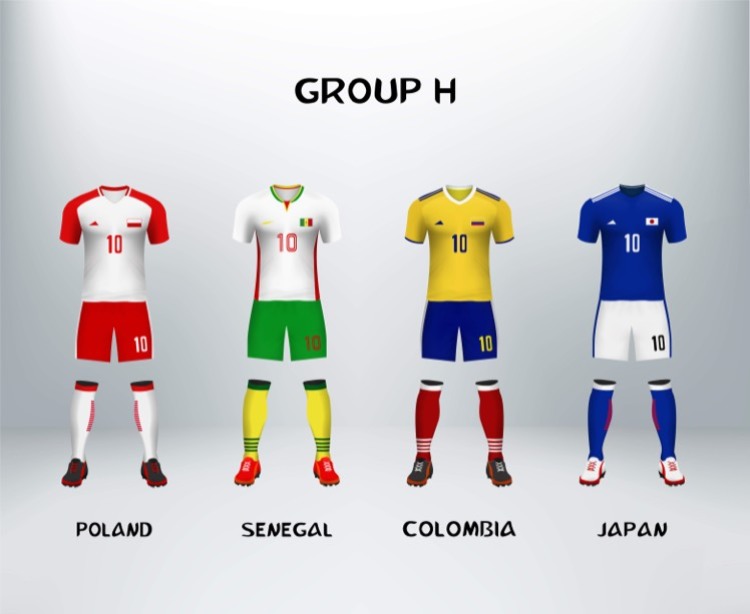 We take a detailed look at the teams who make up World Cup Group H.
COLOMBIA
Strengths: Huge attacking potential, strong World Cup experience.
Weaknesses: Erratic form, struggle to find the right system.
Colombia reached the World Cup quarterfinals in Brazil but face a challenge to match that level again in Russia four years on. They certainly have a squad capable of going deep into the tournament, but they have struggled to realise their potential in recent times.
Their place at the tournament was achieved automatically, but their form throughout the CONMEBOL qualifying tournament was uncertain, particularly towards the end as they failed to win any of their last four matches and rather limped over the line. Moreover, their record of 21 goals in 18 matches was mediocre.
Colombia's struggle to score goals remains illogical. With Radamel Falcao leading their line supported by the likes of James Rodriguez – who was perhaps the outstanding player at the Brazil tournament – and Juan Cuadrado, they should have plenty of firepower in their ranks.
Indeed, this is not a temporary issue; of this star trio, only James has really lived up to his reputation while with the national team:
Cuadrado is still on single digits in terms of goals, despite turning out for the team around 70 times.
Coach Jose Pekerman, who was also in charge in the last competition, has struggled to iron out inconsistencies in their side, which have seen them go from beating France 3-2 to drawing 0-0 with Australia in spring friendlies.
In their sole warm up match, they were held 0-0 by Egypt, dominating the game but missing many chances.
They do remain robust defensively, led notably by Cristian Zapata, although Yerry Mina of Barcelona and Davinson Sanchez are both up-and-coming players who are liable to be vital to their cause this time around.
This Colombia generation do have a habit of performing reasonably well in tournament football, having reached the quarterfinals four years ago, but also having finished third in the most recent edition of the Copa America. Never, though, have they seriously looked like they might win one.
Target: In a very manageable group, they will expect to qualify with some to spare and will hope to match 2014's quarter-final berth. Anything more would be a bonus.
JAPAN
Strengths: Great experience throughout the squad
Weaknesses: Coaching change on eve of tournament. Players not in form.
Japan first qualified for the World Cup finals in 1998 and have not missed a competition since. They have not, however, performed well on the biggest stage. Indeed, with the exception of when they co-hosted the competition in 2002, they have won only two of 13 matches and have lost eight.
Expectations ahead of the competition in Russia are not high. They have had a rough time since qualifying impressively from a group that contained fellow finalists Saudi Arabia and Australia, not helped by their decision to sack popular head coach Vahid Halilhodzic in April.
The man charged with taking the Samurai Blue to the finals is Akira Nishino, though his coaching experience is limited. However, he has promised to play an attacking brand of football.
Japan do have their share of attractive players. In the midfield, Shinji Kagawa will be their chief architect. Although he earned a move to Manchester United following some blistering performances with Borussia Dortmund, he has failed to recapture that form and has failed to establish himself as a regular even after moving back to Germany. Meanwhile, they also have the experienced figure of Keisuke Honda, who is now playing his football in Mexico.
Hoping to benefit from the work of this pairing is Shinji Okazaki, who has scored 50 goals for the national team in 112 appearances – a fine record.
All of these three players are highly experienced, and indeed this Japan squad is one of the most aged and capped at the tournament, with an average age of nearly 29 and 16 of the 23 players having earned more than 20 caps.
The defence is no different, with Maya Yoshida their anchoring presence of the rear-guard. Meanwhile, full-backs, Yuto Nagatomo and Hiroki Sakai are both experienced campaigners in Europe, although the latter has missed several weeks due to injury.
Nishino must rely on this knowhow in the squad, which is otherwise in a state of some disarray.
Target: Japan have been to the knockout stages of the World Cup previously, but after the troubles they have had off the field in recent times, doing so again would be an impressive achievement. This is not an especially strong squad.
POLAND
Strengths: Deadly finisher in Robert Lewandowski
Weaknesses: Concede a high number of goals, key man Kamil Glik out injured
After 12 years away from the World Cup finals, Poland find themselves back on the big stage, aiming to reach the knockout rounds of the competition for the first time since 1986.
The Poles qualified for the competition with few hints of trouble, though their group was not particularly strong, containing Denmark and Romania as their opponents of chief note. Things started inauspiciously as they lost a 2-0 lead to draw 2-2 away in Kazakhstan, but after a 3-2 win over Denmark in their next match, there were no major hiccups until they lost heavily to the Danes in September 2017, by which time they were well clear as leaders.

It was little surprise who their star player throughout qualifying was. Robert Lewandowski was in prolific form throughout and finished the qualifying campaign with 16 goals – more than anyone else in the whole of the UEFA qualifying pool. Indeed, he managed two hat-tricks, including that vital one against Denmark.

Given that Poland netted 28 times, his tally accounted for more than half of that of his team and underlined just how important he is to the panel.
Arkadiusz Milik missed much of the qualifying campaign due to injury and his return should certainly be seen as a boost, though he flopped during Euro 2016 after being given a big build up.
At the other end of the field, they were not so impressive. They conceded 14 goals, which was twice as many as any other group winner in the UEFA section, with the exception of Serbia, who leaked 10. Indeed, these teams were the only top-two finishers in all groups who conceded double figures.
Complicating matters further at the back for Poland is the news that Monaco centre-back Kamil Glik will miss the competition due to a recently sustained injury. The already fragile back line will, therefore, need to be reshuffled once more.
Goalkeeper Wojciech Szczesny will, therefore, have a good deal of responsibility placed on his shoulders, yet he is capable of dealing with such pressure.

Target: The last 16 is the aim of Poland and they are favourites to finish as runners up in a tight group behind Colombia. Anything less would be a disappointment but their defensive problems may let them down.
SENEGAL
Strengths: Defence greater than the sum of its parts, not reliant on one player for goals, powerful midfield sector.
Weaknesses: Lack of creativity in midfield, Senegal struggle to reach offensive potential.
Senegal may not be a team with great World Cup experience, but in their only previous outing in 2002, they were one of the teams of the tournament as they shocked defending champions France in the opening game before reaching the quarter-finals, one of only three African sides every to achieve that feat. With a star-studded squad in 2018, they hope to replicate that achievement.
Their path to this stage has been somewhat complicated. In the preliminary stage they fell 2-0 down to Madagascar before recovering to qualify, while a 2-1 loss to South Africa was scrubbed after it was found the official had been involved in match fixing.
Nevertheless, they have a strong team founded on an impressive defence. Before conceding against Croatia in their final qualifying match, they had kept six clean sheets in their previous eight matches, with only South Africa and Uzbekistan finding the net against them. They bounced back from that loss with a 2-0 win over South Korea on the eve of the tournament.
The defensive line is very much the backbone of the team, with the key player by far in this area Kalidou Koulibaly of Napoli. Indeed, aside from the 26-year-old, there are no standout stars in this sector, with the unit being far more effective than the sum of its parts.
Further forward, they have tremendous physicality in the midfield, where the likes of Idrissa Gueye and Cheikhou Kouyate, the captain, patrol. They are immensely strong in this area but do lack guile and that has an effect on the team in an attacking sense.
Clearly, Saido Mane is their star forward, although his return of 14 goals for the national side is somewhat modest give he has played more than 50 times.
Otherwise, Senegal have a collection of decent but not outstanding attacking threats. In this regard, they will look for Monaco forward Keita Balde to come to the fore, having been Serie A's top scorer in the 2016-17 season. Moussa Sow is also a player who knows his way to goal, while Moussa Konate is coming off a highly impressive season in France. Mame Biram Diouf is another good option, while winger Ismaila Sarr and M'Baye Niang both have tremendous potential.
Senegal's issue in recent times has been tapping into that attacking power. They were held 0-0 by Luxembourg in a pre-tournament friendly, which does not bode well, but if they can unleash their potential they are a team to watch.
Target: Senegal will expect to fight for a place in the last 16. While they do not appear to have the defensive strength to go much further than that, they are not a side to be underestimated.
Click here to subscribe to our preview, report & stats service. Coverage of 50+ tournaments with daily updates before and after games!

Featured
We take a detailed look at the teams who make up W...
30
match previews updated