Russia 2018 - Who will be crowned Assist King?
08.06.2018 10:22:10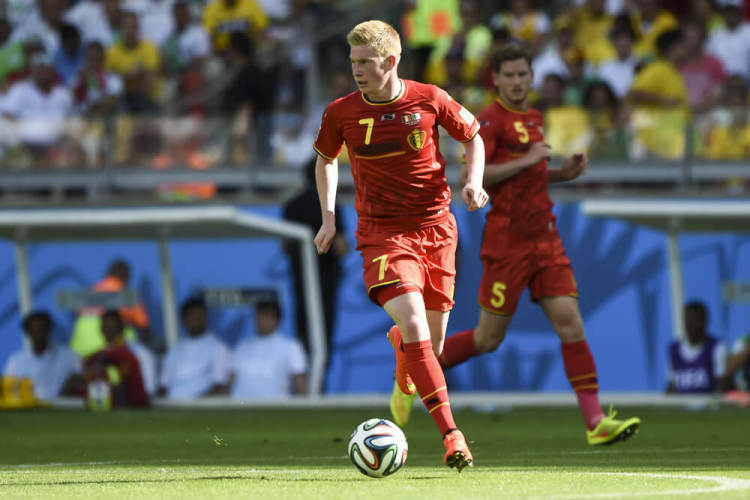 Previously, we looked at who could be the top scorer in Russia.
Here we take a look at who will create the goals during the World Cup – the assist kings. These are the players who make the killer passes, provide tempting crosses and pinpoint deliveries from set plays.
The assist king will be part of a team that goes far in the competition and scores lots of goals along the way. The winner must also be fit enough, physically and mentally, to play in up to a maximum of 7 consecutive games.
The Favourites!
Kevin De Bruyne is among the hot favourites for the assist king title. He had a stunning season at Manchester City. If Belgium progress from their group as expected, he should be up there.
Total club assists last season: 21

Total assists in qualification group: 3
Neymar, despite slight injury doubts for Brazil, is also a hot favourite. Although viewed a top scorer, his position on the left allows him to cut infield and make many chances for others.
Total club assists last season: 17

Total assists in qualification group: 8
Lionel Messi is of course a serious contender too with Argentina. He plays from deep and if he can't break through he often sets up others to score.
Total club assists last season: 17

Total assists in qualification group: 2
Antoine Greizmann helped Atletico Madrid win the Europa League last season and a big transfer move is expected. His counter-attacking is impressive and he creates scoring opportunities for his French teammates.
Total club assists last season: 14

Total assists in qualification group: 4
David Silva has a World Cup and two European Champions medals in his locker with Spain. Add in his recent English Premier League title with Manchester City and we have an experienced attacking midfielder in great form.
Total club assists last season: 16

Total assists in qualification group: 4
Paul Pogba has something to prove. Because he cost £98m and plays for Manchester United he's up there with the favourites. He's not yet totally convincing for Manchester United or France, but there's no doubt the potential is there to shine on the biggest stage.
Total club assists last season : 13

Total assists in qualification group: 0
Pick a German!
Germany are the World Cup holders and breezed through their qualifying group with 10 consecutive wins and 43 goals. Such is their strength, they may have too many assist kings for any of them to win it outright.
Joshua Kimmich: 9 assists in qualification
Toni Kroos: World Cup and Champions League winner
Thomas Muller: World Cup winner and assist king pedigree
Mezut Ozil: World Cup winner
They are all stereotypically calm, efficient and resilient. But above all, they are all proven winners. With Germany clearly one of the favourites to win the tournament, any of this quartet could be the assist king.
South American contenders
Brazil scored 41 goals in 18 matches during qualification. Willian provided 5 assists and Gabriel Jesus 4. Both are real contenders for the title along with Philippe Coutinho.
Uruguay's duo of Carlos Sanchez and Luis Suarez were prominent in their qualification with 7 assists each. However, doubts exist if they can reach the latter stages of the tournament.
European contenders
Belgium qualified strongly with Eden Hazard claiming 5 assists and Dries Mertens with 6 assists. Thomas Meunier with 7 assists is another hopeful.
England duo, Dele Alli and Raheem Sterling come into the competition in strong form. England may not be prolific scorers, but each is highly effective at creating chances.
Isco is another of Spain's hopes for assist king. He may not have featured heavily in their qualification assists, but he's been in great from recently and is hoping to carry it into the action in Russia.
France are hoping Ousmane Dembele, Olivier Giroud or Kylian Mbappe can make an impact. France have a strong squad, but doubts about their manager, Didier Deschamps exist.
Any home advantage?
Will home advantage play a part when it comes to goals and assists? Without competitive matches, Russia have struggled to find momentum in the build up to their World Cup. Their top clubs also failed to make an impact in European competition last season.
Fortunately, Russia's Group A is not the strongest so they may find goals and assists against Egypt and Saudi Arabia.
Alan Dzagdev had the most assists last season for CSKA Moscow. Close behind was FC Krasnodor's Feder Smolov. Yuri Zhirkov at the age of 34 may be looking to sign off with a flourish as assist king, but it seems unlikely.
The Outsiders!
Every team at Russia 2018 has a few players capable of regularly setting up others to score. Sadly, Asian and African teams rarely progress beyond the group stage so their chances of providing the assist king are remote and that is why they don't feature in this preview.
Here are a few outsiders to ponder:
Christian Eriksen (Denmark)
Luwig Augustinsson (Sweden)
Piotr Zielinski (Poland)
Juan Cuadrado (Columbia)
Hakim Ziyech(Morrocco)
All in the above list have strong assist numbers in qualification and given a good start could compete for the title of assist king.
Lessons learned
The competition for assist king is usually very tight. Juan Cuadrado (Columbia) was the assist king at Brazil 2014 with 4 assists in 5 appearances. The eventual winners, Germany, provided the closest competition with Toni Kroos and Thomas Muller having 3 assists in 6 appearances.
At South Africa 2010, 3 assists was enough to be the assist king. It was shared by Brazil's Kaka, the Netherland's Dirk Kuyt. Three German's also provided 3 assists: Thomas Muller, Mesut Ozil and Bastien Schweinsteiger.
What can we learn from all this? The assist king will be European or European-based. Probably backing a German is a good start!
Click here to subscribe to our preview, report & stats service. Coverage of 50+ tournaments with daily updates before and after games!

Featured
We take a detailed look at the teams who make up W...
255
match previews updated