The pain in Spain: is this the end for Barcelona as a Major Football Force?
26.09.2021 13:34:52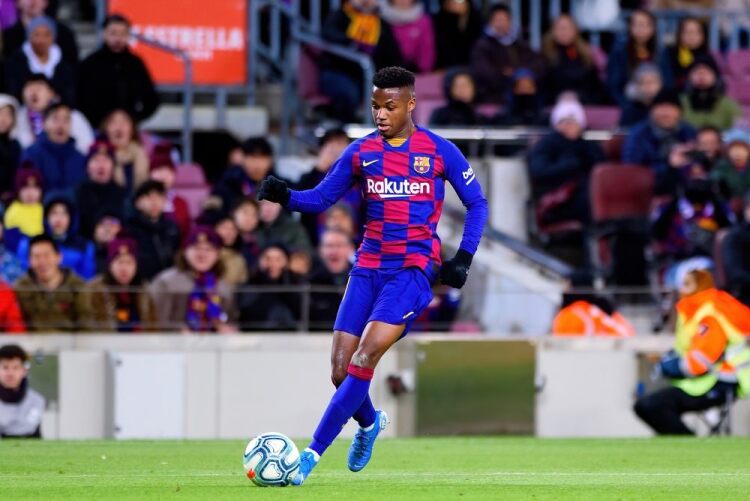 There are two ways down from the top of the mountain. You can approach your descent in a quiet and dignified manner….or you can fall headfirst to disaster, screaming all the way.
In a footballing sense, FC Barcelona have opted for the latter and for neutrals and lovers of the beautiful game, it's pretty sad to see.
Sympathy is in short supply amongst other clubs, after all, Barca got themselves into this position through years of financial impropriety, with overspending that secured them a clear competitive advantage whilst they somehow evaded the justice of the sport's regulators.
Even so, football purists can feel sad that one of the best sights of the modern game, a Barcelona side adept at turning the passing game into an art form, is now likely to be a thing of the past….and for a considerable amount of time, too.
Their opening six LaLiga games of the 2021/22 campaign have yielded just nine points, and more worrying has been the manner of their performances – this is not a Barcelona outfit that looks likely to challenge the top four in Spain, let alone battle it out for the title.
And that's a crying shame….although it's been a long time coming.
Debt Collection
Context is everything in sport, and the decline in Barcelona's fortunes, both literal and financial is almost impossible to believe.
It's not long since they were the first club in any sport to exceed $1 billion in annual revenue. That success was powered by having such bankable global stars like Lionel Messi and Neymar in their ranks.
Today, their outstanding debt sits at $1.4 billion according to the Financial Times. Ironically that is a hole dug by spending such exorbitant sums on the wages of Messi and co.
But it would be wrong to pin all the blame on the Argentine's astronomic wage demands (okay, let's pin most of it on him. Messi earned a reported €555 million from 2017 to the day he left the club). Remember, this is a club that, switching currencies for a second, paid €160 million for Philippe Coutinho, €120 million for Antoine Griezmann and €105 million for Ousmane Dembele, who have rather underwhelmed at the Nou Camp, shall we say.
All of which left the Catalans with a decision to make: due to the LaLiga salary cap, they could keep Messi and raise €200 million in capital through transfer fees, or send the diminutive 34-year-old packing – saving them just over €100 million in salary payments and bonuses.
In the end, Barcelona had no choice but to opt for the latter. Their rivals knew they were in peril and so played hard ball. Atletico Madrid re-signed Griezmann on an initial loan (they will only have to pay €40 million to make the deal permanent), while Besiktas were only too happy to take Miralem Pjanic on loan without parting with a single penny in fees.
With a self-imposed transfer ban also in place, Barca can't spend money on new players. They convinced Sergio Aguero (how chuffed must he be that his best mate has since left?) and Memphis to join the sinking ship, while loan deals for the likes of Newcastle United reject Luuk de Jong reveal how far they have fallen.
Unsurprisingly, their results on the pitch are as mediocre as those on their spreadsheet….
A Significant Downturn
While they are yet to lose in LaLiga this term, Barcelona were absolutely trounced 0-3 on home soil by Bayern Munich in the Champions League, and that is a measure of how far they have fallen.
They were outplayed by Athletic Bilbao and Cadiz in their respective draws too, needed a last minute equaliser against Granada and, even when they have played well, the xG data shows they have created many chances this term. They simply don't have that 30-goal a season player, like a Messi for example, to put the ball in the net with any consistency.
Ronald Koeman has been forced to field youngsters such as Gavi, Yusuf Demir and Ronald Araujo already, and while they may go on to become stars of the game they don't exactly possess the quality right now to turn Barca into silverware challengers immediately.
Let's be clear: if Martin Braithwaite is one of your main sources of goals, you are bang in trouble. Not even the magic of Memphis can turn this Barcelona side into title contenders.
On Borrowed Time
I know it, you know it, and even he knows it: Ronald Koeman is on borrowed time as Barcelona manager.
It's easy to feel some sympathy for him given the factors outside his control which undermine his team, but the Dutchman has to take control of those emotions and provide a stoic presence for his under-fire players. He probably doesn't need to go around getting sent off, as he did against Cadiz.
He stormed out of the post-match press conference too, and if the pressure is getting to Koeman now it's hard to see how much longer he can go on in the dugout at Camp Nou.
The problem is that he has lost the fans, and maybe even the dressing room. Their Tiki Taka style, a phrase detested by former coach Pep Guardiola, but he helped to build that philosophy, is now completely absent. It has been replaced by a high tempo crossing style that really does their technical players few favours.
Barcelona is a club that recycles possession and plays beautiful football. That's something that's taken as read and so their fumbling under Koeman does little to instil confidence that he is the man to arrest their slump.
Some media outlets have linked Roberto Martinez to the post, but here's the thing; in their financial position, can Barca pay the compensation required to sack Koeman?
All of their woes are of their own making. A proud football club lacking money and identity, generally only has one direction in which it can travel….
Click here to subscribe to our preview, report & stats service. Coverage of 50+ tournaments with daily updates before and after games.
Featured
Doncaster Rovers are in terrible form, and lie at...