Serie A - 7 team relegation fight
28.03.2018 12:34:51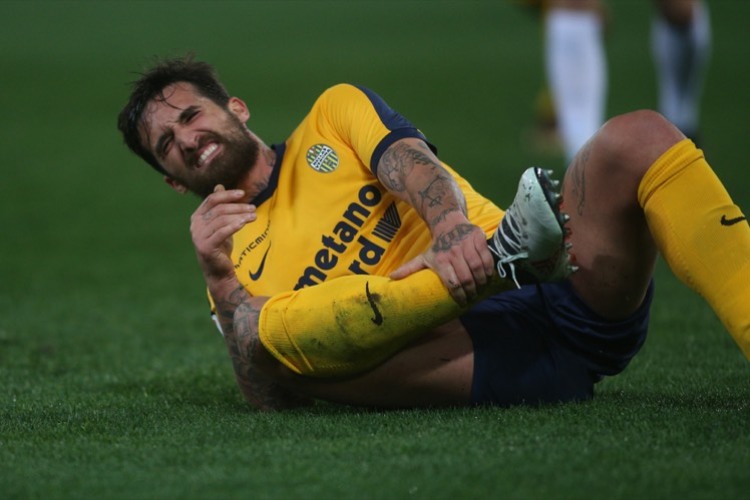 Back in August, with Italian Serie A still to kick off, 4 sides had the markings of being serious candidates for the drop to Serie B: the newly promoted Benevento, Hellas Verona and SPAL had failed to strengthen sufficiently over the summer, whilst Crotone had miraculously reached salvation in the previous campaign.
4 months later, as the "winter season" drew to a close, those 4 teams confirmed the pre-campaign predictions occupying the bottom 4 places in the league.
Crotone 15
SPAL 15
Hellas Verona 13
Benevento 4
After 3 further months, with just a quarter of the season left to play, they are still there, at the foot of the Serie A, the only difference being now that more sides are involved in the fight to avoid the drop.
Cagliari 29
Sassuolo 27
SPAL 25
Crotone 24
Hellas Verona 22
Benevento 10
Who will reach salvation at the end of the season?
Benevento: no hope left
Worst defence in Serie A - 63 goals conceded
Worst losing run - 14 defeats in a row between weeks 1 and 14
Worst away record - lost all 14 games
The Witches' first historic Serie A season will unfortunately be remembered for little else but its negative records.
Having won just 3 games, they find themselves 15 points away from the safe zone and, despite undergoing a major squad overhaul over the winter, things have not really improved.
Considering that they are hopeless when travelling and that they are still to play Juventus, Napoli, Milan and Atalanta, all top teams, Benevento stand no chance of salvation.
Hellas Verona: somehow still alive
Hellas Verona's season has been troublesome throughout: manager, owners and supporters all seem to be at odds with one another; several players have been frozen out or barely used for months, while others, like Bruno Zuculini, Bessa and Pazzini, who contributed to the Serie B promotion run, were let go during the winter transfer campaign, thus impoverishing the squad.
Pazzini's departure in particular, together with injuries sustained by their only other strikers, Kean and Cerci, have seriously limited the team's firepower. With just 196 shots on goal, only 3 other teams have done worse than them up-front.
In the second half of the season Hellas have managed to win all the games they have scored in. This has resulted in 3 unexpected successes over Fiorentina, Torino and Chievo Verona. If nothing else, this demonstrates that they are still alive and kicking.
They still have to face 3 top teams but also have games against struggling SPAL and Benevento, or teams with nothing to play for. If Kean and Cerci return soon and in-form, Hellas Verona could achieve survival.
Crotone: hard times ahead
Until coach Nicola's unexpected dismissal at the beginning of December, Crotone seemed capable of surviving once again. However, since Zenga's arrival they have fallen all the way down to the bottom three albeit with the occasional triumph, as occurred versus Sampdoria.
Crotone are very effective up-front with the 14th attack in the league. This is the case despite managing only 186 attempts on goal, the second worst average in the league. That said they are very fragile defensively, with 50 goals conceded. Moreover, they have an extremely poor away record, only better than lowly Benevento.
Crotone have a very difficult run in: they will be face 5 top teams and, to make matters worse, they will end their campaign with back-to-back clashes against Lazio and Napoli, two teams involved in the fight for a Champions League spot and the Scudetto respectively.
SPAL: a favourable schedule
Praised since the very beginning of the campaign for the quality of their football, it was only towards the end of the winter season that SPAL started adding points to their tally with some consistency.
Having lost only 5 times between the beginning of December and mid-March, they managed to obtain crucial wins over Bologna and Crotone and precious draws against Inter and most surprisingly, Juventus.
With such consistency and a favourable schedule on their side (SPAL only face Roma, Sampdoria and Atalanta among the top teams), Salvation is at hand.
Chievo Verona: at serious risk
Chievo Verona's season can be divided into two halves. During the first, they were among the top 10 and fighting for the European spots. Then, injuries occurred to two key players, Roberto Inglese and more importantly Lucas Castro . This changed things radically.
With just 2 wins in the last 19 rounds, they slowly began an unstoppable slide down the table, ending up just 1 point above the bottom three.
Despite the quality present in the squad and a valid coach in Maran at the helm, they risk being relegated. They are unaccustomed to fighting against the drop which won't help them.
Chievo Verona will play 5 top 10 teams and 4 salvation contenders in the run in: it's time to start worrying.
Sassuolo: from riches to rags
Just like Chievo Verona, Sassuolo have been protagonists of a campaign of two halves. Having ended the first half at the foot of the top 10 after coach Iachini replaced a disappointing Bucchi, with the passing of time they stopped winning. Instead of fighting for the a European berth which was their summer ambition, they have found themselves flirting with relegation.
With just 18 goals scored, they hold the worst attack in the league. Their most talented player, Domenico Berardi, has been underperforming, offering a very limited contribution in terms of goals, just 2, and 5 assists.
Bad news for Sassuolo is the fact that they will face 6 teams still involved in the fight for the Scudetto, or for European competitions. What is more they will travel to salvation contenders Chievo Verona, Crotone and Hellas Verona.
Cagliari: inconsistency is their flaw
Inconsistency has characterised Cagliari's season but they have always won games when it was needed, thus keeping troubles at bay.
They face tough encounters against Inter, Roma and other European contenders, so must make the most out of home games against Udinese and Bologna. Should they fail to do so Cagliari run a serious risk of being pulled into the relegation zone.
Click here to subscribe to our preview, report & stats service. Coverage of 50+ tournaments with daily updates before and after games!

Featured
This article focuses on the future of football wit...
355
match previews updated