What has become of Real Madrid and LaLiga this season?
01.11.2018 19:36:19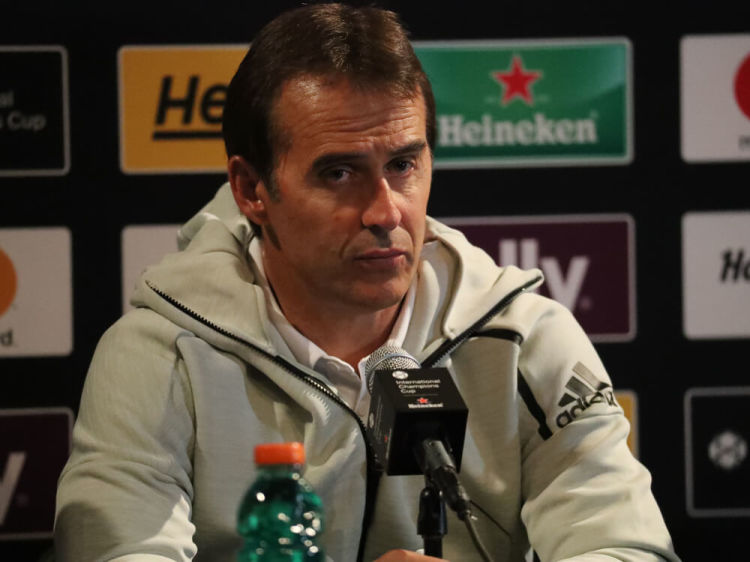 There was a time when LaLiga was a two-team league, with Barcelona and Real Madrid so superior to the rest. In the 2011/12 season, Real Madrid set a points total record of 100, before Barcelona went and matched it the following year. Now, though, LaLiga has become much more competitive.
Ten rounds into the 2018/19 campaign, Barcelona lead the league table – but only just. They're on 21 points after a 5-1 victory over Real Madrid in the Clásico, followed by surprise package Alavés on 20 points. Sevilla and Atlético Madrid are just one further back on 19, while Espanyol round off the top five on 18 points.
There have been so many shocks and storylines already. Here, we take a look at some of the big questions from the first quarter and a bit of the campaign.
What has happened at Real Madrid?
This was always going to be a difficult year for Real Madrid, after a summer during which they lost both Zinedine Zidane and Cristiano Ronaldo. However, few expected it to go quite so poorly.
Ten rounds into the season, they have just 14 points and have a goal difference of 0, having scored 14 and having conceded 14. For comparison's sake, they had 20 points, 19 goals scored and nine goals conceded at this stage last season – and their 2017/18 campaign wasn't even that impressive.
Unsurprisingly, the club have acted and have sacked their coach Julen Lopetegui. He leaves after just 137 days in charge, making his tenure the third-shortest during president Florentino Pérez's 15 years as president.
Real Madrid coaches who lasted shortest time under Florentino Pérez
1. 101 days. 2004. Mariano García Remón
2. 117 days. 2004. José Antonio Camacho
3. 137 days. 2018. Julen Lopetegui
4. 178 days. 2005-2006. Juan Ramón López Caro
5. 215 days. 2015-2016. Rafa Benítez
Los Blancos have appointed B team coach Santiago Solari for the moment, although a higher profile name could come in at any time.
The good news for them is that they're only seven points behind Barcelona, who have already dropped nine points this season. It's not, therefore, impossible for them to climb back up the table quickly and to manoeuvre themselves into a position to challenge for the title.
What about Barcelona and those dropped points?
Barcelona may be top, but they've been much less convincing than they were last season, when they had 28 points at this stage and when they'd won nine of their 10 matches, drawing the other 1-1 away at Atlético Madrid.
They're certainly not dominating in the same way as they did during Ernesto Valverde's first year in charge and, worryingly for Barça fans, they've already dropped some points in matches they'd fully have expected to win.
Points dropped by Barcelona in 2018/19
Matchday 5: Barcelona 2-2 Girona
Matchday 6: Leganés 2-1 Barcelona
Matchday 7: Barcelona 1-1 Athletic Club
Matchday 8: Valencia 1-1 Barcelona
There is, therefore, an expectation that Barcelona will continue to drop some points over the course of the rest of the season, especially as they still have to visit Real Madrid, Atlético Madrid, Villarreal, Sevilla, Real Betis and Athletic Club.
Plus, there is an explicit determination to focus on the Champions League this season. "This year we want the Champions League … we have to win the competition," captain Lionel Messi said at the start of the season, comments which were reported by MARCA. If the Champions League becomes a distraction then that could open the door for other teams to win LaLiga.
Who are the other candidates for the title?
While Alavés and Espanyol both find themselves in the top five, nobody is really expecting these teams to sustain a title challenge all the way to the end of the season. They are good teams playing effective football and they'll certainly be in the mix for European qualification, but it would be asking too much for them to target top spot.
It's a different story, however, with Sevilla and Atlético Madrid, currently third and fourth and both on 19 points, just two behind Barcelona.
Sevilla have a new coach this season in Pablo Machín, who did so well with Girona last year by leading them to 10th in their first ever season in the top division, and in his own first season coaching in the top division. At Sevilla, he has brought his effective tactical system with him, one which uses a back three and which floods the attack.
Sevilla have been scoring goals for fun this season, starting in the Europa League qualifiers and carrying on into the league season and the Europa League group stages. Only Paris Saint-Germain have more goals than they do this year out of teams in the top five European leagues of Spain, England, Germany, Italy and France.
Goals scored by teams in top five European leagues in 2018/19 (all competitions)
1. 53 goals. Paris Saint-Germain
2. 52 goals. Sevilla
3. 40 goals. Barcelona
4. 39 goals. Borussia Dortmund
5. 38 goals. Manchester City
Atlético Madrid, on the other hand, have accumulated their 19 points through strong defence. They have conceded just five times in LaLiga, the lowest total for any team, while scoring 12 times, just the eighth most goals for in the division. They will need to put the ball in the back of the net more frequently if they are to really challenge for the title, but they should be considered a serious candidate given that they won it as recently as 2013/14.
Given the way this season has started, it wouldn't be a massive shock if another team not named Barcelona or Real Madrid won the trophy this time around.
Click here to subscribe to our preview, report & stats service. Coverage of 50+ tournaments with daily updates before and after games!

Featured
There's something odd about the Scottish Premier L...
59
match previews updated