LaLiga Christmas predictions: top of the table, top scorer & relegation places!
18.11.2020 12:48:26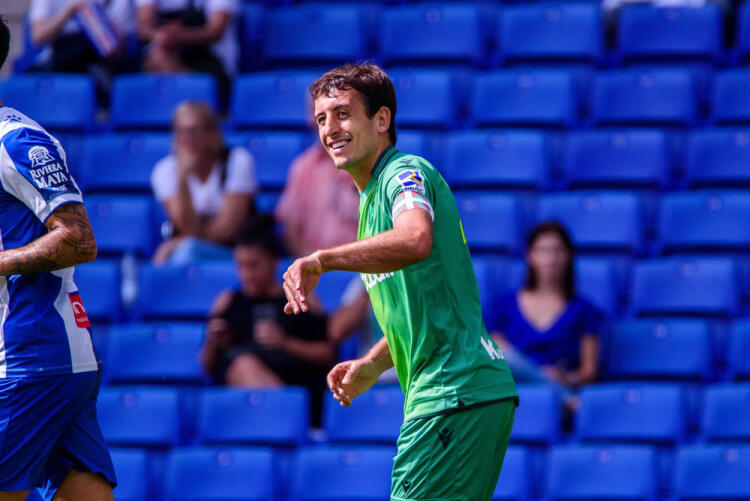 There have been many shock results already this LaLiga season
This could finally be the year another Spaniard wins the Pichichi
The 2020/21 LaLiga Santander season is well under way, but it has been a very strange campaign so far. Nine matchdays have been completed, but not all the teams have played nine fixtures so far since there have been several postponements due to the shorter off-season.
We've seen some surprises so far, not least the fact that there have been six different league leaders so far in the form of Valencia, Granada, Real Betis, Getafe, Real Madrid and current leaders Real Sociedad. Barcelona and Sevilla are both outside the European qualification spots entirely and Atlético Madrid are scoring goals for fun. It's certainly been odd and here are some medium-term predictions for this weird and wacky campaign.
Real Sociedad could be the Christmas leaders
Real Sociedad are top of the table right now, having won their previous five league games before the pause for the November international break. With just six more rounds to go until Christmas, it's reasonable to look ahead and wonder who'll be top once the carols have been sung and the presents have all been opened up.
Given that La Real's fixture list over the next few weeks sees them play three of the sides in the bottom six, they have a very good chance of staying top by December 25th, which comes just after a midweek round that'll be played up until Christmas Eve.
Real Sociedad's pre-Christmas LaLiga fixtures
Matchday 10: Cádiz vs Real Sociedad
Matchday 11: Real Sociedad vs Villarreal
Matchday 12: Alavés vs Real Sociedad
Matchday 13: Real Sociedad vs Eibar
Matchday 14: Levante vs Real Sociedad
Matchday 15: Real Sociedad vs Atlético Madrid
This might be a repeat of 2002/03
The team that sits top of the LaLiga table at Christmas usually goes on to win the championship. In this century, that has happened on 13 of 20 occasions. Last year it didn't, as Barcelona were top at Christmas time, before Real Madrid overtook them by the end of the very long campaign.
One of the other times when the Christmas leader didn't win the title was in 2002/03 when it was Real Sociedad who led the way on the day Santa Claus comes to town. Back then, the Basque side led second-placed Real Madrid by five points, but the two Reals traded places multiple times over the second half of the season and it was Real Madrid who eventually won the league over Real Sociedad by two points.
Perhaps it could be a similar story this season. Real Sociedad are in pole position to be top by Christmas, but Real Madrid remain the overall favourites for the title considering they are the defending champions and considering their main rivals Barça are already way off the pace.
There could be a Spaniard top of the Pichichi charts
The Pichichi Trophy is the prize given out each season to the top scorer in LaLiga and it hasn't been won by a Spaniard since Daniel Güiza in 2007/08. Only two others – Diego Tristán and Raúl – have won it this century, so they even created a separate award called the Zarra Trophy for the top-scoring Spaniard in 2006.
This year, though, the Zarra Trophy and the Pichichi Trophy might be joined together because the top scorers so far are from Spain. Real Sociedad's Mikel Oyarzabal and Villarreal's Paco Alcácer have six and five goals respectively and have both been impressive since day one of the new campaign. Lionel Messi isn't scoring as often as usual and Karim Benzema has never scored more than 24 goals in a single league campaign. This really could be the year that we get a Spanish Pichichi winner and we could certainly have a Spaniard top of those scoring charts at Christmas time or at the midway point.
The Pichichi standings after Matchday 9
1. Mikel Oyarzabal: 6 goals
2. Paco Alcácer: 5 goals
2. João Félix: 5 goals
2. Luis Suárez: 5 goals
This might be the year Eibar go down
This is currently Eibar's seventh consecutive season in Spain's top division, which is quite an achievement considering they are the smallest club in the division in terms of size, hailing from a town with a population of just 27,000. But, this year could be the one in which they go down.
They're outside the relegation zone at the moment, in 16th and three points above the bottom three, but they're had statistically the easiest schedule so far in terms of the league positions of their opponents. They have some tough fixtures before Christmas and it certainly wouldn't be a surprise to see them in the bottom three at the end of this year. Then, in the second half of the season, they'll look to pull off yet another miracle by trying to stay up again.
Eibar's pre-Christmas LaLiga fixtures
Matchday 10: Eibar vs Getafe
Matchday 11: Real Betis vs Eibar
Matchday 12: Eibar vs Valencia
Matchday 13: Real Sociedad vs Eibar
Matchday 14: Eibar vs Real Madrid
Matchday 15: Alavés vs Eibar
How many goals can this new-look Atlético Madrid score?
Atlético Madrid have evolved a lot this season stylistically. They're still extremely stingy at the back and have conceded just twice, but they're scoring a lot of goals and have 17 from their seven LaLiga games so far. Not only has João Félix taken a step forward, but Luis Suárez has arrived too and Diego Simeone has adjusted his team's style accordingly, something he has even admitted in a press conference.
They may even break some of their attacking records this season as Atleti are currently on pace to score 92 goals, to concede 11 and to have a goal difference of 81. Their previous bests in each of those categories in 38-match seasons are 80, 18 and 51. This could be the year where Atleti break some records in an attacking sense.
Click here to subscribe to our preview, report & stats service. Coverage of 50+ tournaments with daily updates before and after games.
Featured
What went wrong for Phillip Cocu at Derby County?...